Front Office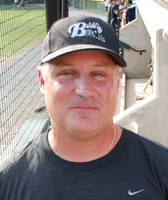 Sal Colangelo
Director of Baseball Operations
Phone:
(703) 967-5855
E-mail:
Sal Colangelo brings a wealth of playing and coaching experience to his 23rd season with Bethesda Big Train. In 2005, he led the Big Train to a Cal Ripken, Sr. Collegiate League Regular Season Championship in his first year as manager. His team also finished in first in the regular season in 2006.
From 2009-2011, Colangelo led the Big Train to a threepeat of Cal Ripken Collegiate League Championships. In addition, the Big Train was ranked the No. 1 summer collegiate team in the country (out of more than 350 teams) by Perfect Game USA. He was named Maryland State Amateur Coach of the Year by the Maryland State Association of Baseball Coaches (MSABC) for leading the Big Train to the 2011 National Championship. Colangelo won five consecutive CRCBL titles from 2016-2021, and in 2018 led Big Train to a franchise-record 34 regular season wins and a league-record .850 winning percentage. The CRCBL did not play in 2020 due to the coronavirus pandemic.
His record-setting season earned him the 2018 MSABC Manager of the Year Award. He owns a 461-185 career regular season record and a .714 winning percentage in 16 seasons at the helm of Big Train. In total, he has led Big Train to eleven regular season league titles and nine Cal Ripken League championships. In addition to his top-ranked 2011 team, three other Big Train teams have finished the season ranked in the top ten nationally (2009 - 9th; 2017 - 4th; 2019 - 6th). He is a member of the Cal Ripken League Hall of Fame, and was inducted in 2019 as part of the hall's inaugural class.
Colangelo is a graduate of Potomac High School in Woodbridge, Virginia and is currently the activities director at C.D. Hylton High School in Woodbridge. Previously, he served as the assistant activities director, assistant principal, assistant varsity baseball coach, and head golf coach at Potomac High School in Dumfries, Virginia. In addition, he is a baseball instructor at the Chuck Faris Baseball School in Reston, Virginia.
Before taking over as manager, Colangelo served as an assistant coach for Big Train from 1999-2004. From 1995-97, Colangelo served as an assistant baseball coach at Christopher Newport University in Newport News, Virginia. From 1991-1995, Colangelo played baseball and football for Virginia Tech. An outstanding baserunner, Colangelo stole over 100 bases in high school, including 52 in an 18-game span.
He lives in Lorton, Virginia, with his wife Alison and their daughters, Emma and Abigail.
Colangelo, third from left, poses with fellow Hall of Fame inductees Dean Albany and Bruce Adams,
and Cal Ripken League board members.