Interns
Summer 2023 internship applications are now open.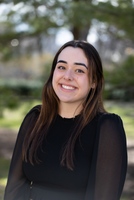 Ally Navarrete
Broadcast Intern (Tim Kurkjian Sports Journalism Fellow)
Ally is a Bethesda native and a rising junior in the Medill School of Journalism at Northwestern University. At Northwestern, she broadcasts a variety of sports for the student radio station and TV network. She's an avid DC sports fan and is excited to improve her broadcast skills with the Big Train this summer!