Interns
Summer 2023 internship applications are now open.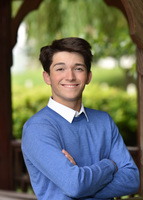 Ray Ash
Operations Intern (Bill and Mike Veeck Baseball Operations Fellow)
Ray Ash is a rising junior at the University of Maryland in College Park, MD and a 2020 graduate of Charles E. Smith Jewish Day School in Rockville, MD. He is pursuing a B.S. in Cell Biology & Molecular Genetics at UMD. He is a member of Maryland's University Honors program and a campus tour guide for UMD undergraduate admissions, while also serving as a student manager for the Division 1 baseball team. Ray has been a fan of the Big Train for over ten years, with his family hosting several players. He looks forward to working with this organization this summer!