Interns
Summer 2023 internship applications are now open.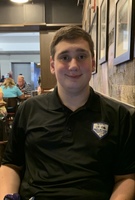 Parker Maddox
Operations Intern (Bill and Mike Veeck Baseball Operations Fellow)
Parker Maddox is a game operations intern for the Bethesda Big Train 2022 season. He has been a Big Train fan since age 7 and is thrilled to come back for his second year as an intern. Parker's a rising senior at Winston Churchill High School, and he hopes to work in sport management when he gets older.