Interns
Summer 2023 internship applications are now open.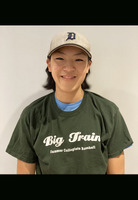 Alex Chang
Alexander DiMisa High School Leadership Fellow
Alex Chang lives in Bethesda and is a rising senior at Walter Johnson High School. Alex has worked with the Big Train for three years and as a former WJ, BCC Big Train, and DMV Prospects player, he has always had a passion for the game. He may or may not have an addiction to sports cards or be prone to poor financial decisions in pursuit of cardboard. Alex is always wearing a hat so nobody knows what the top of his head looks like.