Interns
Summer 2023 internship applications are now open.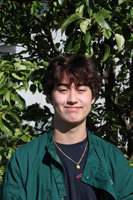 Robert Hsu
Alexander DiMisa High School Leadership Fellow
Robert Hsu lives in Bethesda and is a rising senior at Walter Johnson High School. He has been a Big Train fan for years. He volunteered with Big Train for the 2019 season and DJ'd games and ran the scoreboard in 2021. He was previously the sports editor for his school's newspaper, The Pitch, and was chosen to be editor-in-chief for the 2022-23 school year. He is an avid movie and DC sports fan.