Interns
Summer 2023 internship applications are now open.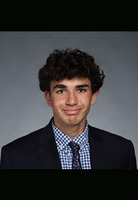 Henry Leggett
Alexander DiMisa High School Leadership Fellow
Henry Leggett lives in Bethesda and is a rising senior at Landon School. He has spent many nights at Shirley Povich Field attending Big Train games. Henry's favorite all-time MLB player is Mariano Rivera. Henry hopes to work in the sports industry when he is older and is very excited to join the Big Train for the summer and learn from the best!