Interns
Summer 2023 internship applications are now open.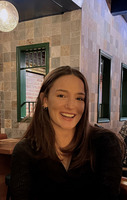 Bronwyn McNulty
Alexander DiMisa High School Leadership Fellow
Bronwyn McNulty lives in Bethesda and is a rising senior at Walt Whitman High School where she plays varsity softball. She has been attending Big Train games since she was a toddler (she even had a birthday party at Povich Field one year!), and her family has hosted Big Train players over the years. Bronwyn is also the captain of the Whitman Swim and Dive team. She is part of Whitman's Leadership Academy for Social Justice program, focusing on LGBTQ+ rights. In the future, Bronwyn hopes to combine her interests in business and marketing with her passion for diversity, equity, and inclusion.