Interns
Summer 2023 internship applications are now open.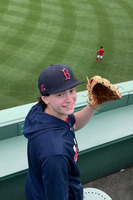 Jack Sherbacow
Alexander DiMisa High School Leadership Fellow
Jack Sherbacow lives in Bethesda and is a rising senior at the Bullis School where he is a pitcher on the varsity baseball team. He has an avid passion for baseball and baseball analytics. Last summer, he participated in the Wharton Moneyball Academy where he used coding and statistics to analyze MLB players. A member of the Society for American Baseball Research (SABR), Jack hopes to one day work in an MLB front office.