Interns
Summer 2023 internship applications are now open.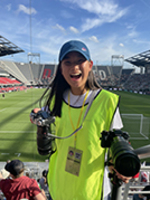 Anna Yuan
Photography Intern (Tim Kurkjian Sports Journalism Fellow)
Anna is a Bethesda native and rising junior at Georgetown University. At Georgetown, she worked for The Hoya, Georgetown's student newspaper for two years before beginning an internship with Georgetown Athletics. In her free time, she enjoys playing ultimate frisbee and attending Washington Spirit games.