Host Family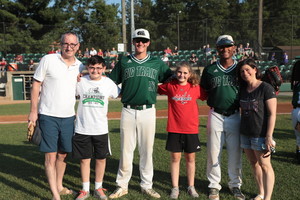 If you love to watch baseball, have kids who play baseball, or are a die-hard Big Train fan, you can join the Big Train family and host a player for the 2021 season.
We are looking for dedicated families to share their homes with a Big Train player during the upcoming 2021 season. Players stay with families from late May through late July or early August.
Your family will experience the joy of watching your very own player come up to bat or pitch in a game. With your own player, your family will have a personal interest in the team that you've never felt before. Most players also work Big Train summer camp and many have their own transportation.
This summer, you can be assured we are working hard to make sure all Covid safety protocols are followed in the hosting process.
If you are interested in hosting a player, or would like to know more about it, please give us a call. We can give you details and put you in touch with current host families who would be glad to share with you their own experiences.

Below you will find more information about the host family program. If interested, please contact one of our Host Family Coordinators Emily Waldman at waldmanemily@gmail.com or Amy Matush at amymatush76@gmail.com.
Host Family FAQs
Host Family Guildlines
Learn more about the host family experience below!