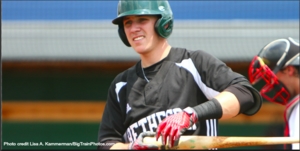 Creighton
Daniel Woodrow (BT '16) leads the Blue Jays with a .370 average. In 162 at-bats, Woodrow has 60 hits. Once on the base paths, Woodrow is a menace, stealing 26 bases at a .866 rate. Harrison Crawford (BT '15) has three home runs on the year.
Florida Atlantic
Sean Labsan (BT '14) is continuing his productive season as a two-way player. On the mound, Labsan has pitched 36 innings in seven starts. He is 5-1 on the year with a 1.50 ERA. At the plate, Labsan is hitting .287 in 129 at-bats. He has posted 12 extra-base hits and 21 RBI. In 39 innings over eight starts, David Mckay (BT '15) has a 3.00 ERA and opposing hitters hit a low .182 against him. Mark Nowatnick (BT '15) has made 10 appearences out of the pen. In 16.2 innings of work, Nowatnick has a 2.16 ERA
Stetson
Walker Sheller (BT '15) has been a dominant force in the bullpen for the Hatters. Sheller has a .79 ERA over 34 innings in 24 appearances. Opponents are hitting .178 when Sheller is on the mound. Josh Thorne (BT '14-15) has made 22 appearances and posts a cool 2.97 ERA. Logan Gilbert (BT '16) has started and pitched in relief for a total of 15 appearances and 41.2 innings as a freshman. His ERA is 2.38.
Sacramento State
Chris Lewis ('14-15) former league MVP is picking up his play at the plate at Sacramento State. Lewis is now hitting .308 over 169 at-bats. He is leading the team in doubles (15) and tied for the RBI lead with 27. Brandon Hunley (BT '15-16) is hitting .244 and is second on the team with 11 doubles while accounting for 15 RBI.
Tulane
Stephen Alemais (BT '14) is leading the Wave in batting with a .339 average. He has 12 extra base hits and 20 RBI. JP France (BT '14) pitched well and picked up a win when Tulane faced LSU on National TV. On the year, France is 4-1 with a 3.42 ERA over 50 innings.
St. Mary's (CA)
Zach Kirtley (BT '15) is batting .338 for the Gaels in 40 games played. He has 14 doubles and five homers to go along with a team-leading 30 RBI.
UNC Wilmington
Nick Feight (BT '14-15) is batting .390 with 38 extra base hits in 159 at-bats. Feight has 16 home runs and an astounding 74 RBI on the year.