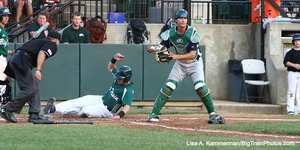 After back-to-back Big Train victories, the team looks to expand their win streak to four as they take on the Vienna Riverdogs in a double header. The teams will play two seven inning games at Povich Sunday.
Clayton Daniel (Jacksonville State) left his mark on Vienna the last time these two teams met with a hefty two hit, two RBI night. Chris Monaco (Virginia Tech) pitched a five-inning gem, only giving up one earned run. He led the way to a 8-4 Big Train victory.
Johnny York (St. Mary's) and Erik Wiebke (Stetson) are the probable starters for Sunday's games. York has only appeared in one inning of relief where he let up no runs and struck out one. Wiebke has also has only one inning of work under his belt but like York, gave up no runs and struck out one batter.
The Big Train pitching staff has given up just 37 runs this season, good enough for best in the Cal Ripken Sr. League. They have the advantage against the Riverdogs' offense, who have only scored 52 runs throughout the season, the second least in the league.
First pitch for game one is scheduled for 5:00 p.m.. Game two begins at 7:30 p.m.. Stop by Shirley Povich Field for a Father's Day doubleheader!