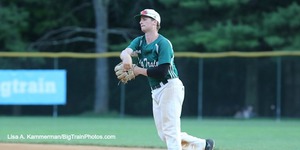 Following their first loss in their last five games, the Big Train look to regain their momentum in Rockville against the Express.
Bethesda is undefeated in their two meetings against Rockville, their most recent victory coming June 18th by a score of 7-2.
Clayton Daniel (Jacksonville St.) notched two RBIs during his 2-3 night vs. the Express. Alex Calvert (Erskine) picked up his first win of the season, pitching two innings and striking out three.
John Murphy (Maryland) is projected to get the start. He brings a 6.19 ERA and 14 strikeouts through 20.1 innings pitched.
After a hitless game, the league leader in RBIs Allen Smoot (San Francisco) looks to get back on track. He has hit .309 and plated 23 batters this season.
First pitch is scheduled for 7:00 p.m. at Montgomery College in Rockville.