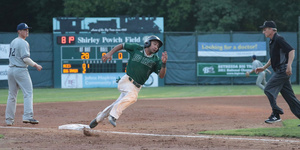 The Bethesda Big Train will be returning to host the Alexandria Aces in the first games back after the Southern Collegiate Showcase down in North Carolina earlier this week. The two teams will be making up a rain reschedule in the first of the two games of the double header. Big Train will play as the away game in the first game, then switching to home in the second.
It's time to bust out your wands and tiaras, Big Train fans! The second game of the double header is Disney Night!
Celebrate the nostalgic evening as Disney fans old and new sing along to the timeless melodies. Come dressed as your favorite Disney character to cheer on the Big Train in a magical manner! All it takes is a bit of faith, trust, and pixie dust!
Bethesda and Alexandria have faced off a total of six times in the 2019 season. The double header will bring the final two games between the teams in the regular season. Big Train has claimed five of those six wins, outscoring the Aces 60-23. Bethesda looks to improve their record against the bottom team in the league, pushing their nine game winning streak further.
First pitch is set for 4:30 p.m. for the first game. A scheduled time of 7 p.m. is set for the second game of the double header, though it will be dependent on the ending of the first.
Make sure to bring the magic as your favorite Disney character! Can't attend the game? No need to worry! Play-by-play coverage will be broadcast by Alex Drain and Shaun Salehi; tune in here.