In their second home game of the regular season, the Bethesda Big Train faced off against the Alexandria Aces. Down early, Big Train fell short of the comeback, 14-8, for their first loss of the season.
The Alexandria bats came out hot, plating seven runs in the first. But, the Big Train was able to respond in the bottom of the inning, posting two runs of their own. Aces pitcher Derek Sivec walked Austin Gauthier (Maryland) home and a single from Jack Cone (William & Mary) brought Darius Foster (San Francisco) in to score. After one full inning, Big Train trailed 7-2.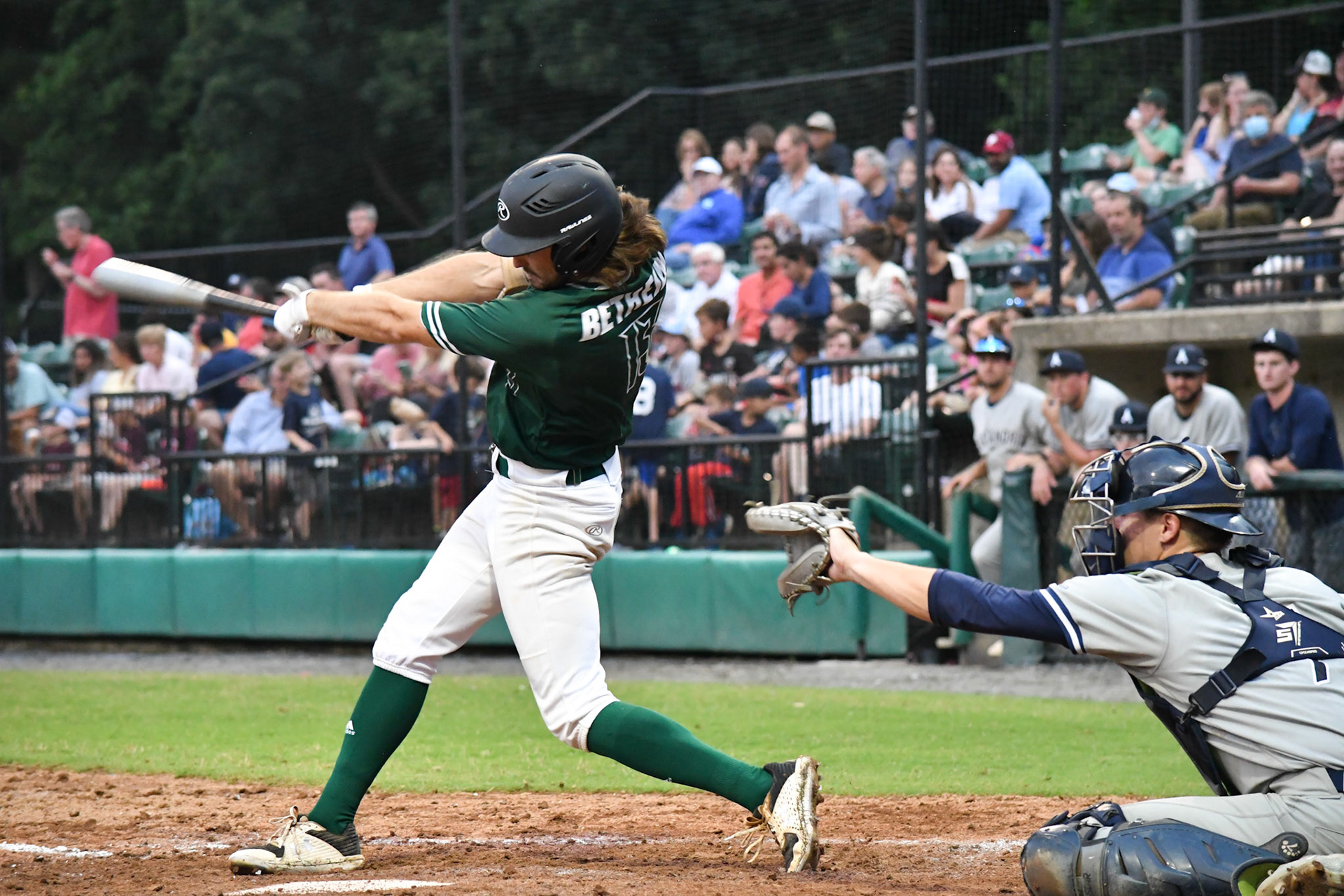 Jack Cone (William & Mary) went 4-for-5 with a homer and two doubles in the loss to Alexandria.
In the second, the Aces tacked on three more runs. The only run for Big Train in the inning was a double from Gauthier sending Kyle Velazquez (Saint Mary's CA) home. Creeping back onto the scoreboard in the third, Cone hit his first home run of the season over the right field fence to make the game 10-4, putting Big Train one run closer to catching Alexandria.
Big Train kept up their defense in the subsequent two innings, holding the Aces to zero runs in that stretch. On offense, Bethesda slowly started to find their game. A run in the fourth from Gauthier allowed Big Train to cut Alexandria's lead in half. But an Aces' three-run homer in the sixth and another run in the eighth extended the deficit again to 14-5.
Bethesda first baseman Rocco Peppi (Long Beach State) and Cone refused to go quietly in the eighth. Peppi scored first and then a double from Cone brought two more home, bringing the score to 14-8.
The final inning saw quick three outs against Alexandria, putting Bethesda back up at bat. Unable to close the gap, the game ended with Big Train's first loss of the year as they fell 14-8 to the Aces.
Cone finished the night 4-for-5 with three extra-base hits and four RBIs, and Gauthier added three hits – two doubles – of his own.
The Big Train is back at home Sunday night to take on the Gaithersburg Giants at 7 p.m.