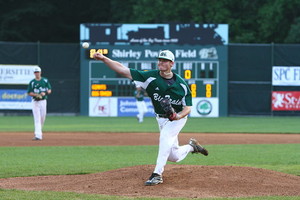 Entering the final week of regular season play, the Bethesda Big Train pitching staff remained perched atop the Cal Ripken League leader boards. As of Tuesday, the South Division champions ranked first in the league in ERA (2.32), opposing batting average (.197), opposing slugging percentage (.252), walks/hits allowed per inning pitched (1.08), and walks (112).
The staff, comprised of four workhorse starters and a talented righty-heavy bullpen, has led Bethesda to their current No. 22 national ranking, per Collegiate Summer Baseball Rankings.
Different Animals, Same Beast
Now a three-year veteran of summer ball in Bethesda, the team's ace and first baseman Tim Yandel (Tulane) heads a talented starting rotation of four young arms that have propelled Bethesda to another successful regular season.
Rising freshman Alex Calvert (South Carolina), the youngest of the quintet, ranks tied for second in the league with four wins with a spotless 4-0 record. Sophomore Drew Strotman (St. Mary's, Calif.) – fresh off his all-star campaign with college teammate Zach Kirtley (St. Mary's, Calif.) – has allowed just 28 hits in 35 2/3 innings work while posting a 4-2 record.
Chris Monaco (Virginia Tech) rounds out the starting rotation, representing his manager, Sal Colangelo's, alma mater.
The rotation has proven daunting for Cal Ripken League opponents. The feared foursome has ground through 134 innings of work with a combined ERA of 2.15.
Despite being all right-handed, Bethesda's starters each execute a unique plan on the mound. Where Yandel said he often attacks early with his fastball, Strotman often pitches backwards, using his off-speed early in the count to later set up his heat.
Working with just a three-pitch repertoire, Strotman knew he needed to work in a fourth pitch. Before leaving St. Mary's College for the summer, he picked up some tips from curveball-throwing teammates. Strotman had never thrown a deuce before; he relied only on his fastball, slider, and changeup.
"I always felt like I needed a pitch with more vertical movement because I'm always working horizontally, never really changing the batter's eye level," he said.
Despite not unveiling the pitch – even in bullpen sessions – until arriving in Bethesda for the summer, Coach Bill Sizemore saw its potential.
"Coach Sizemore's strategy for me to get better with my curveball was, 'You're going to throw every hitter a first pitch curveball so you can work on throwing it for a strike,'" Strotman recalls. "We built off of that, it was working so we just stuck with it.
Calvert gets inside on hitters with what Yandel describes as a "heavy two-seam sinker" with great movement. Finally, Monaco compliments his fellow-starters by relentlessly attacking the strike zone with both fastballs and changeups, throwing 67.7 percent of his pitches for strikes.
Success early in the count has been key for the young staff's confidence. Guided by Yandel, their senior-most leader, Monaco, Strotman and Calvert all throw a respectable 61-64.5 percent of their first pitches for strikes. Yandel spins a whopping 72.3 percent of his first offerings in the strike zone.
"I try to make sure to get the first strike or at least make a good pitch," said Yandel, "it's a lot easier to pitch to your strengths when you're ahead in the count 0-1."
Digging batters into a hole early has proved effective as opponents hit a paltry .176 against him; that mark is good for second in the league – among all pitchers who qualify – behind Vienna ace Jack Gomersall (5-1).
As of Tuesday, the Big Train had 15 pitchers on the roster with an earned run average below 4.00. Ten posted numbers below 2.60: starters Yandel (1.08), Monaco (1.95), Strotman (2.52), followed by Radford reliever Miller Trevett (0.56), the Big Train's lone lefty Luis Collazo (1.14), Mississippi State's Blake Smith (1.72), Maryland Terrapin Mark Rescigno (1.72), Florida Atlantic sophomores Mark Nowatnick (1.76) and David McKay (2.25), and closer Walker Sheller (2.31) from Stetson.
Anchoring the pitching staff, the bullpen has proved vital to the entire team's success. Despite spending the game down the left-field line in the pen without coach supervision, Bethesda relievers have effectively shortened games since the season began.
"We have a lot of fun in the bullpen, probably more fun than the guys in the dugout," said Trevvett, "we obviously stay in the game but we definitely have to keep ourselves entertained."
Benefiting from a balance of youth and experience, the relief corps is comprised of four sophomores, five juniors and three seniors.
Trevvett, whose 0.56 earned run average is good for tops on the league's best pitching staff, has thrown 16 innings thus far this summer. The key for the sidearm throwing righty has been pitching to contact, not away from it.
"I've really been working on not trying to strike people out," Trevvett said, "if you look at the stats I think I have about a half a strikeout per inning where other guys are closer to one. The reason is I'm pitching to contact and getting groundballs."
His fastball features sharp, late sink – the result of his lowered arm slot – running down and in on the hands of a righty.
The importance of throwing strikes is not lost on Nick Feight (UNC Wilmington), one of three catchers on the Big Train roster who all call their own pitches.
"Sometimes when you go into a bullpen, its tough for guys to come in late in the game and throw strikes," said Feight, "but our guys get ahead with first pitch strikes pretty well … and then you can work with your pitcher after you're ahead in the count."
Trevvett, who has worked hard to block out all exterior thoughts while on the mound this summer, credited the starting rotation for making the easing the bullpen's stress.
"It's huge for us, it saves the pen so you don't have to use everyone," he said, "and it means we don't have to go in the game quite as early and we're not going in behind. Having good starting pitching is definitely and big start toward winning baseball games."
Dominant Pitching Fuels Offensive Efforts
The effects of such a commanding pitching staff are felt as strongly in the bullpen as they are in the offensive game.
"It definitely gives us a lot of confidence at the plate," said Chris Lewis (Sacramento State), league leader in homers and runs batted in. "I can't remember a game this year where we got flat blown out and were out of a game … even if we're down, its usually only by a few runs and that's easy to chip away at over an entire game."
The result, according to Yandel, is a simplified approach at the plate where no batter feels they must bear the entire load. Due to his pitching and offensive prowess, he knows firsthand how a strong pitching staff affects hitters' offensive mindset.
"They can go up with a lot more confidence knowing the pitchers are going to go out every time and give it their all and give the team a chance to win," said the 6-foot-1 rising senior. "It gets rid of all the useless stuff in your head and you can focus on getting comfortable and hitting the baseball."
The Big Train will return to the playoffs for the eleventh straight time in as many years since leaving the Clark Griffith Collegiate Baseball League after the 2004 season. Bethesda looks to clinch the number one overall seed and home field advantage throughout the playoffs tonight with a win in Herndon against the division-rival Braves.
And as sure as the sun setting in the west, there are only three things you need to succeed in playoff baseball.
Pitching, pitching, and pitching.