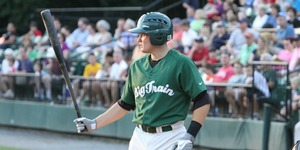 The Big Train pushed their current winning streak to three games on Tuesday, beating the Youse's Orioles 5-1 with Hall of Fame shortstop Cal Ripken Jr. in the house.
Cody Mizelle (Florida Atlantic) got the start for the Big Train, and showed off incredible control with his pitches, not walking a single batter in six innings of work. Mizelle gave up just four hits and struck out four.
"I just wanted to get on the mound tonight and get a good feel for all of my pitches, get ahead, and get batters out," said Mizelle.
A big second inning for the Big Train bats backed Mizelle's mound mastery, as the offense put up five runs. Tucker Tobin (George Mason) led off the inning with his first home run of the season, which would set the tone for the rest of the inning. RBIs by David Del Grande (Sacramento State) and Kevin Tatum (Cornell) pushed the lead to 3-0. Johnny Cole (Coastal Carolina) then extended the lead to 5-0 with a two-run single.
After Mizelle's six shutout innings, Kit Scheetz (Virginia Tech) gave Bethesda two innings of quality relief before allowing several Orioles on base in the ninth with the Big Train up 5-1. Big Train closer Trevor Charpie (Tennessee) came in with the bases loaded and no outs but quickly disposed of the Orioles with a strikeout and a double play. He earned his third save in as many games.
The Big Train improve to 3-1 on the season with the win, and will look to extend their three-game winning streak on Thursday against the Vienna Riverdogs. Thursday is Bunt Mini-Bobblehead Night at Povich Field, and the first 500 fans get a miniature bobblehead of Homer's best pal! Tickets to the game can be purchased
here
or at the gate!