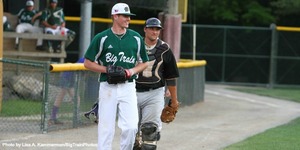 Powered by timely hitting and shutdown pitching, the Big Train utilized three sacrifice flies Wednesday to win their third straight road game in as many days.
Alex Calvert (South Carolina) became the second pitcher in the league to record his second win, lowering his ERA to 2.46 after six innings of no-hit dominance. Reliever Walker Sheller (Stetson) carried the no-hit bid into the ninth before allowing back-to-back hits and the Grays' only run of the night.
Opposing Calvert was Layton Dill – college teammate of Cody Brown at Mississippi State University – coming off a complete game 12-strikeout performance against the Herndon Braves. Giving up six hits over 5 2/3 innings, Dill struck out only two Big Train batters and was pegged with his first loss allowing two earned runs.
The Big Train offense sits in the middle of the Cal Ripken League standings, posting a meager .230 batting average in 2015. Efficient, not overpowering, offense has proved successful for manager Sal Colangelo, allowing the team to ride the wake of the dominant pitching staff.
Sacrifice flies in the first, sixth, and eighth innings off the bats of three separate Bethesda starters provided more than enough for Calvert and Sheller's dominance.
Centerfielder Matt Toscano (St. Mary's, Calif.) drew a walk in the first, scoring on a Harrison Crawford (Creighton) sac fly and drawing first blood for Bethesda.
In the sixth, Crawford scored the game's decisive run on a Ryne Willard (North Carolina State) sacrifice fly after leading off the innings with a triple. Sunday's starting pitcher Tim Yandel (Tulane) saw the ball well from the other side of the plate Wednesday, notching two hits as Bethesda's only multi-hit performer.
Chris Lewis (Sacramento State) led off the eighth inning with a walk, advancing to third on a passed ball and groundout. The Grays pulled Reid Frazier, Dill's replacement, in favor of Reid Frazier.
But after intentionally walking Willard to induce an inning-ending double play, a wild pitch to Brandon Hunley (Sacramento State) scored Lewis from third and allowed Willard to advance two bases and replace Lewis 90 feet from home. Later in the at bat, Hunley lofted a fly ball to center, chasing home the Big Train's fourth and final run of the evening.
After playing five of their first six games in unfriendly territory, Bethesda returns to Shirley Povich Field Thursday to face the defending champion Baltimore Redbirds (6-1).
Six consecutive wins have lofted the Big Train into familiar territory atop the Cal Ripken League. The 4-1 Vienna River Dogs trail Bethesda in the South Division, while D.C., Herndon and Alexandria all post records below .500.
Notes: Calvert/Sheller held the Grays hitless for the game's first eight innings, the team's longest such streak to begin a game this season … After an 0-5 night, Zach Kirtley (St. Mary's, Calif.) still leads the league with six RBI … Bethesda opens the season 6-0, reaching half of their 2014 mark of 12-straight wins to begin the season … All Big Train players have been eliminated from College World Series play … Bethesda moves to 5-0 on the road this season … Beginning with Thursday's game against the Baltimore Redbirds, the Big Train will play six of their next nine games at home.