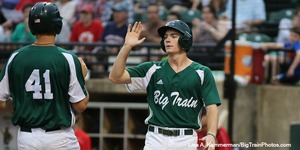 After a dramatic walk off victory last night, the Bethesda Big Train return to action.
Having their previous matchup postponed due to rain, the Big Train will play the Baltimore Dodgers twice at Shirley Povich field.
The Dodgers are in an odd situation, having doubleheaders on both Saturday and Sunday.
The first game will be a continuation of the rained out contest. Bethesda will have to get the bats going early as the game will start in the fourth inning with the Dodgers up 5-0. Matt Herzog (Louisburg) is the projected starter for game one. The sophomore has made two appearances for the Big Train, given up three runs over six innings while striking out five.
Sean Barry (San Diego) is projected to get the starting nod for the Big Train in game two. Barry won his only start this season, a 14-2 victory in Rockville. Over his 13.2 innings pitched, he has given up two runs and struck out an impressive 15 batters. His ERA is at an astonishing 1.31.
First pitch for game one is scheduled for 5:30 p.m. while game two begins at 7:30.