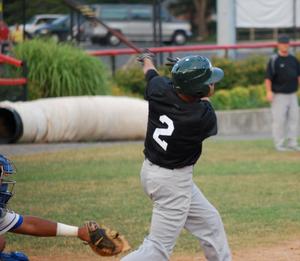 Box Score: W, 9-4
The Big Train were able to stay hot heading into this week's All-Star break as they beat the Silver Spring-Takoma Thunderbolts 9-4 in Silver Spring on Monday night.
Bo Logan (Florida Atlantic) took the mound and earned his third win in his last three starts as he went five innings, giving up only four hits and striking out three. Ryan Doran (San Diego State) pitched the last four innings of the game and gave up no runs and struck out three.
As for the hitting, the Big Train fell behind early but quickly battled out of those circumstances. In the top of the fourth, Hunter Renfroe (Mississippi State), Colin Kish (Florida Southern), and Avondre Bollar (San Diego State) loaded up the bases with one out. Mike Miedzianowski (High Point) hit a ball that was just short of a grand slam. When the dust settled, it was a three-run double. Justin McCullough (El Camino) followed Miedzianowski's clutch double with a walk and brought first Adam Barry (Cal State Northridge) up with two on and one out. Barry singled to score
both Miedzianowski and McCullough.
The Big Train offense would strike for two more runs in the top of the fifth. Kish and Tucker Tobin (George Mason) reached base to lead off the inning and both scored on a double by Bollar to pad the lead and make the score 8-3. The Big Train and Thunderbolts each tacked on one more run later but it did not affect the outcome as the Big Train won 9-4.