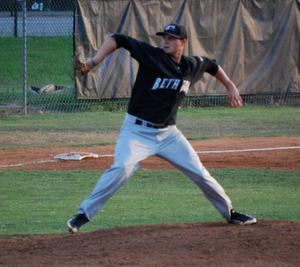 Box Score: W, 9-4
Mother Nature cooperated long enough, giving the Big Train the seven innings they needed to grab a 9-4 win over the Herndon Braves.
After coming from behind on Wednesday, it was the Big Train who got on the board first last night. After Michael Bass (UNC Wilmington) scored on a passed ball, Cole Norton (St. Mary's (CA)) and Brendan Hendriks (San Francisco) would cross the plate on RBIs from Hunter Renfroe (Mississippi State) and Colin Kish (Florida Atlantic) to give the Big Train an early 3-0 lead.
Renfroe's ground-rule double to right-centerfield in the first inning broke Adam Barry's (Cal State Northridge) season RBI record of 42 for both the CRCBL and the Big Train.
Ben Griset (St. Mary's (CA)) took the mound in the bottom of the first, already with a large cushion to work with. Griset would preserve the lead through the three innings he pitched, giving up just one earned run on two hits while striking out four.
Hendriks and Renfroe would then lead off the top of the third inning with back-to-back home runs, pushing the score to 5-1, giving Eric Martin (Tennessee) plenty of room to work with as he came in to pitch the fourth inning.
After seeing the Braves score two in the bottom of the fourth, Adam Barry would swing the momentum back towards the Big Train, hitting his first home run of the season to make the score 7-3.
The Big Train would tack on two more insurance runs on a 2-RBI single by Kish, and two scoreless innings from Hugh Adams (Florida Atlantic) would cap the 9-4 win over the Braves.