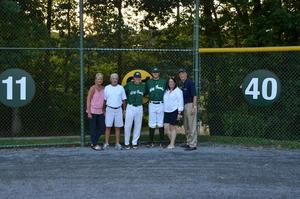 Box Score: W, 19-4
It truly was a perfect ending to the regular season last night, as the Big Train scored at ease in a 19-4 route of the Vienna River Dogs.
Singles by each of the first four Big Train batters got the game going in the right direction early last night, as the Big Train took a 4-0 lead headed into the second.
The River Dogs answered with four runs of their own, testing the will power of the Big Train offense.
The offense answered, scoring four more runs in the bottom of the second, fueled by home runs by Adam Barry (Cal State Northridge) and Hunter Renfroe (Mississippi State), giving the team an 8-4 advantage headed into the third inning.
Brock Larson (San Francisco) would come in to hold the lead, and would give up no runs on just one hit over his 3.2 innings pitched.
The offense would back Larson's effort with 11 more runs in the next three innings, including multi-RBI hits from Colin Kish (Florida Southern) and Tyler Thomas (Shepherd).
The 19 runs would prove to be more than enough as the pitching staff gave up just three hits, getting Larson the first win of his young Big Train career. The win gives the Big Train a 25-16 record on the season, locking them in for the third seed in the playoffs.