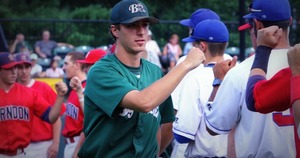 Despite his rookie status in the CRCBL, Brendan Hendriks (San Francisco) instantly became a fan-favorite in Bethesda this season as fans quickly latched on to the "Canada" nickname that fellow players gave him.
Brendan was also quite likable for his performance on the field, as he led the team in hits, games, at-bats, and doubles. Hendriks posted an average of .400 while collecting 64 hits, and also tied the league record for doubles with 17.
"It's an honor to be recognized for something like this, especially considering the many talented players we had on our team," said Hendriks. It's definitely a reflection of the [University of San Francisco] baseball program as well as the coaching staff with the Big Train and everything they have done for me."
"Brendan was the first one to the ball park to work on his swing every day," said manager Sal Colangelo. "He has a great swing with real power. We are looking forward to having Brendan come back to play for the Big Train next summer."
Brendan will look to establish himself as a prospect to watch next year as he heads into his sophomore year at the University of San Francisco.