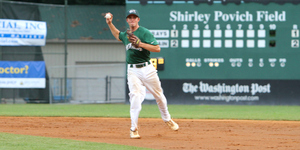 Another college baseball season is underway and Big Train players past, present, and future are playing all over the nation. Some colleges started sooner than others, but most are underway and here's what's going on with your favorite Big Train players...
Michael Bass (BT '10-'12 / UNC-Wilmington) is off to a scorching start. In a game at Charleston Southern on Wednesday, Bass was 3/4, was hit by a pitch, and hit two home runs and a double. That brought him to 7/19, 3BB, 2HBP, 7R, 4RBI, 3HR, 3 2B, 3SB so far this season.
On the other side of the country, Big Train pitching came up big for San Diego State. During the first week of their season, Ryan Doran (BT '12) got a win (6IP, 2ER, 7H, 2BB, 4K) as a starting pitcher, while two new Big Train arms finished a combined three games. Justin Hepner (BT '13) pitched a few games out of relief for a combined stat line of 5IP, SV, 0ER, 3H, 3BB, 6K and freshman Bubba Derby (BT '13) closed two other games for a line of 2IP, 2SV, 0ER, 2H, 0BB, 4K.
Other notable hitters so far: Matt Bahnick (BT '13 / Tallahassee CC) - 18/52, 5BB, 11R, 12RBI, HR, 5 2B... Hunter Renfroe (BT '11-'12 / Mississippi St.) - 6/18, BB, 2HBP, 4R, 3RBI, 2 2B... Colin Kish (BT '12 / Florida Southern) - 6/17, BB, HBP, 4R, 3RBI, 2B... Ricky Santiago (BT '13 / Florida Atlantic) - 6/17, 2R, RBI, 2 2B, SB... Mitch Morales (BT '12 / Florida Atlantic) - 6/15, BB, R, 2B.
Other notable pitchers so far: Kelly Secrest (BT '11-'12 / UNC-Wilmington) - 6.1IP, 0ER, 2H, 2BB, 6K... David Wayne Russo (BT '10-'12 / San Jose St.) - 6IP, W, 0ER, 4H, 2BB, HBP, 2K... Michael Judge (BT '13 / Methodist (NC)) - 11IP, 3-1, 2ER, 4H, 8BB, HBP, 7K.