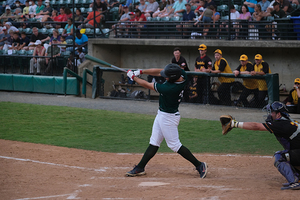 For the first time, the Capital One Arena horn sounded in mid-July. Instead of an Alexander Ovechkin one-timer from the left point, the cause for celebration was a John Kramer (Ole Miss) two-run home run that gave the Bethesda Big Train an early lead Saturday night in a 6-3 win against the Cropdusters.
On Washington Capitals Night at Shirley Povich Field, a pair of Ole Miss teammates kicked things off for the Big Train (23-8); Kramer gave Brayden Jones (Ole Miss) two insurance runs early in an evening when the home side never trailed.
"I'm finally kind of getting my timing down on these pitchers," Kramer said. "[The pitch] was low and a little in, and that's kind of my favorite pitch, so I saw that and then get up on that."
Since arriving from Ole Miss — fresh off a national championship — Kramer is batting .217 with five RBIs and five hits in 23 at bats. But against the Cropdusters (12-16), the Missouri native knocked in two runs and walked, finishing the night one for three.
Around 5:15 p.m., Kramer went into the press box to switch bats, opting for a heavier instrument because the timing of his swing was off.
"I was using a 33, and I was way up front in [batting practice]," Kramer said, "so I was like, 'probably should switch to a 34.' And I think that was kind of the problem solver right there."
With Kramer putting the Green and White ahead in the second inning against Cropdusters pitcher Nate Vermillion, Jones was cruising early.
As he's done before, Jones even started walking to the bench before the top of the fourth officially ended. Cropdusters catcher Tyler Leach hit an arching shot to center field, and Jones left the mound before DM Jefferson (Notre Dame) made the catch.
But in the top of the fifth, Jones struggled with his command and walked in two batters with the bases loaded before getting hooked after 74 pitches. Overall, he gave up three hits and five walks but struck out five in 4.2 innings of work. Merritt Beeker (East Carolina) entered in relief and gave up the third run of the frame when he hit Jimmy Kirk with the bases loaded, which counted against Jones. But with the score tied, Beeker got Tyler Leach to pop out to first to end the threat.
After returning to the field in the sixth to face the heart of the order, Beeker proceeded to spin four scoreless innings, finishing with his most complete outing of the season. The crafty lefty racked up seven strikeouts and no runs in 4.1 innings.
"He was amazing," Big Train manager Sal Colangelo said of Beeker. "His slider was really good, fastball was popping. He worked ahead most of the at-bats. He competed every pitch, and he got the job done for us."
Beeker, who mixed his slider with a blistering fastball, lowered his ERA to 3.18 in 17 innings pitched.
"I just have the mindset to go out there and let my pitches do what they do and just know that it should be good enough," Beeker said. "And then having a defense like we have, it's always great."
Following the three-runs for the Cropdusters that tied the game in the fifth, in the bottom half, the Big Train immediately retook the lead. Peyton Schulze (UC Berkeley) singled in Emilien Pitre (Kentucky), who had reached second after right fielder Tyler Wright misplayed a sharp single through the infield.
In the sixth, Jefferson plated Jason Schiavone (James Madison) before Schulze collected his second RBI of the affair with a single that drove in TJ Rogers (Austin Peay State).
Rogers entered in the third when Luke Nowak (East Carolina) hurt himself diving back to first on a pickoff attempt.
The Big Train and Cropdusters completed a postponed contest before the seven o'clock match, with Bethesda picking up an 8-6 victory in 12 innings. And while a clean sweep begets a happy Saturday, there are four remaining regular season games and the Big Train manager knows they need to get sharper as the playoffs approach.
"We need to clean up some defensive stuff and just really work on the little things and execute," Colangelo said of how his team needs to prepare for the playoffs. "Just cleaning it up, polishing up and just having a lot of energy and excitement as we get through."
The Big Train travel to face the Silver Spring-Takoma Thunderbolts on Sunday, July 17, with opening pitch scheduled for 6 p.m.
Game Night Notes: Big Train fans braved some early rain and packed Povich Field on what turned out to be a beautiful evening for Washington Capitals Night! Capitals TV Analyst and former NHLer Craig Laughlin was on hand and mingled with fans, signed autographs, threw a dynamite first pitch, and even joined the Big Train TV announcers in the booth for an inning on the mic. Slapshot, the Capitals mascot, was on hand and threw out a first pitch, participated in a dance-off with Homer, the Big Train mascot, and competed in musical chairs. Big Train fans unleashed the fury and nabbed some great prizes from the Caps street team... The night's Community Heroes were Court Watch Montgomery, which works to advocate for domestic violence victims, and Conflict Resolution Center of Montgomery County, which fosters peace in our community via the resolution of any type of conflict. It was the perfect way to celebrate Conflict Resolution and Justice Night and celebrate these members of our community who work so hard to improve it... The Maryland Coalition of Families, which helps families deal with behavioral problems, enjoyed a pregame picnic and informed the crowd of their important work during the first pitch ceremony... Cub Scout Pack 56 from Bethesda and Chevy Chase displayed tonight's colors for the national anthem... Attendance was 510.