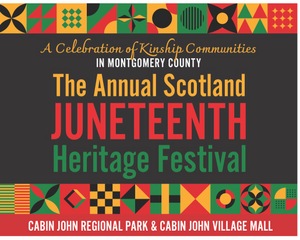 Iconic CBS Sports Announcer Lends Voice to Local Juneteenth Campaign
POTOMAC, MD. — One of America's most familiar faces is lending his name, face, and voice to a Montgomery County public service video campaign launching in conjunction with Black History Month on Friday, Feb. 24.
James Brown, the long-time CBS Sports announcer and Washington, D.C., native, is helping to promote the expansion of the Scotland Juneteenth Heritage Festival, which aims to become the largest celebration of the June 19 holiday in the DMV region.
"The Scotland Juneteenth Heritage Festival will help raise the money to rebuild and, most importantly, raise awareness about a place that's near and dear to my heart," says Brown in a 90-second clip that will be released Friday evening during a Black History Month dinner at the Judith Resnick Elementary School in Gaithersburg. The newly formed Juneteenth Scotland Foundation will release the video on its web site, www.juneteenthscotland.org, thereafter.
"It was a major shot in the arm when we heard that Mr. Brown was willing to do this for us," said LaTisha Gasaway-Paul, the president of the Juneteenth Scotland Foundation and the chairperson of the Festival. She said the organization's goal is to celebrate and support all of the more than 40 historic Black kinship communities in Montgomery County — including her home community in Potomac, where the Scotland A.M.E. Zion Church is raising funds to rebuild and expand after a 2019 flood.
Brown played basketball at DeMatha Catholic High School and Harvard University before launching his four-decade career that led him to CBS, then Fox, and back to CBS. He first visited the Scotland neighborhood in 1987 when Winston Churchill High School graduate Paul "Boo Boo" Palmer was selected in the first round of the NFL draft. Recently, when a friend alerted him to the plight of the Scotland church, Brown offered to help.
"I have a heart's desire to be a part of a team of committed, caring people to make a difference in the lives of young people, and to be a blessing to communities," said Brown. "It's my wish that we see the strengths in our diversity, and what amazing things can be done if we truly love one another."
ABOUT THE SCOTLAND JUNETEENTH FESTIVAL: With events at the Cabin John Village mall and Cabin John Regional Park, the June 19 festival will include more than a dozen different activities including a 5K and fun run, an antique car show, a children's carnival, an art pavilion, a health and wellness pavilion, as well as presentations featuring history and music. The opening night gala will be held at the Bethesda Blues & Jazz Club on June 17. The second-annual Clarence "Pint" Isreal Juneteenth Baseball Classic will be held at Povich Field in Bethesda on June 19 at 7 p.m. Ticket information for the gala will be available by March 3. Festival passes will be available by April 15.
For information about volunteering or sponsoring, visit www.juneteenthscotland.org
For information about the Juneteenth Baseball Classic, visit www.bigtrain.org