Coaches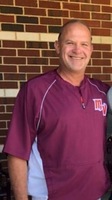 Craig Lopez
Pitching Coach
Craig Lopez joins the Big Train as the Pitching Coach this summer. Coach Lopez has spent over 10 years as the Pitching Coach for the Baltimore Redbirds. He also has worked as a PE teacher in Stafford County Virginia for over 25 yrs. He has been the Varsity Head Baseball coach for 14 years at Mountain View High School. Craig has over 30 years of coaching experience and encouraging young men and using baseball as an avenue to teach them life skills.
Coach Lopez is a native of Stafford County. He graduated from Stafford High and went on to play baseball at VCU. He was drafted by the Baltimore Orioles as a pitcher. That experience has helped him to guide many young men to receive baseball scholarships and to be drafted.
Craig lives in Fredericksburg with his wife Terri. They have 2 adult sons, Jacob and Craig, and a daughter Grace.