Friendship Game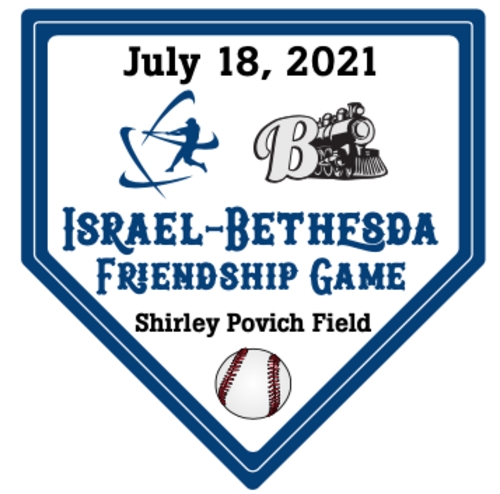 Israel-Bethesda Friendship Game
Sunday, July 18
BREAKING NEWS:
Because of the strong demand for tickets, Big Train baseball is adding 20 folding chairs behind home plate for the July 18 Friendship Game. Fourteen are still available at a sponsorship rate of $250 each. Each $250 sponsorship includes a seat in a folding chair directly behind home plate, a sport shirt with the Friendship Game logo on the chest, a commemorative program, and a commemorative ticket. Email bruce@greaterwash.org to reserve your spot behind home plate and support Team Israel and Big Train. $170 of the $250 is a tax deductible contribution.
In preparation for the Olympics in Japan, the Israel National Baseball Team will play the Bethesda Big Train at Shirley Povich Field on Sunday evening July 18. In respect for Tisha B'Av, Jewish day of mourning, gates will open at 8:15 p.m. with an opening ceremony at 9 p.m. and first pitch at 9:13 p.m. The game will be seven innings.
"We are so honored to be able to host the Israel National Baseball Team as the team prepares for the 2021 Olympics," Bethesda Community Base Ball Club founder and president Bruce Adams

said

. "Famed Washington Post journalist Shirley Povich would be so proud to have this game played at this ballpark we named for him. It will be such a meaningful event for our greater Washington community."
At this time, tickets in the First and Third Base Grandstands, Right Field Bleachers, and Standing Room Only are sold out.

VIP tickets in the Home Plate Grandstand are still available as part of Friendship Game Sponsorships at $1,000 (2 tickets), $2,500 (3 tickets plus program ad), and $5,000 (6 tickets plus program ad). For information about sponsorship opportunities, please email

bruce@greaterwash.org

. Proceeds from this game will help support the expenses of the Israel National Baseball Team and the Bethesda Community Base Ball Club.
Team Israel will play additional exhibition games against Ripken League All Stars on Friday July 16 at 10 a.m. at FNB Field on City Island in Harrisburg, Pennsylvania and Monday July 19 at 6 p.m. at Ripken Stadium in Aberdeen, Maryland. Big Train players will be part of the Ripken League team in Aberdeen. Tickets for the July 19 game are available

here

.
The six-team Olympic Baseball Tournament in Japan will run from July 28 through August 7. For information about helping Team Israel on its journey, please go to

IsraelBaseball.com

. Official Team Israel baseball apparel may be purchased at

teamisraelbaseball.com

.